I saw wild Exmoor Ponies, a feral breed of horse, up on the moors near High Green. They've been brought here from Devon in a land management scheme – eating invasive grasses and bracken in the hope that rarer wildflowers will flourish. They also don't touch the heather.
Exmoor ponies are a hardy breed who have for centuries survived in a harsh and sometimes treacherous landscape. These fascinating, half-wild creatures have gentle looks and a willing nature, they are descended from wild horses domesticated by the Celts of pre-Roman times and are now conserved as a 'rare breed'. (Pictures of England)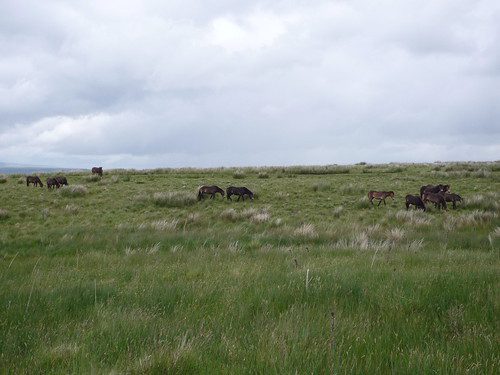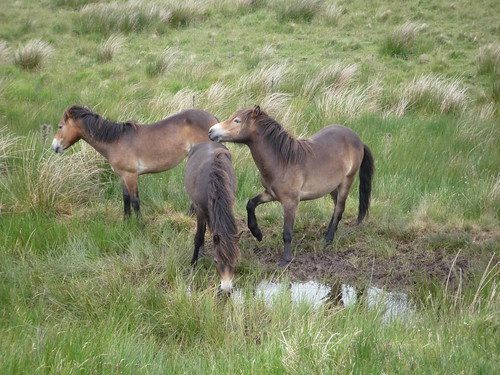 Livestock break up the soil for wildflowers to seed into and the Exmoor ponies are ideal for this as they are environmentally friendly and less destructive than large machinery, will eat the most vigorous and inhospitable plants such as gorse and can penetrate the smallest and most remote locations.

Exmoor ponies are classified by the WWF-UK as "critically endangered" due to their dramatically decline in numbers since the 2nd World War.  The ponies to be used at Kielder will be used on grazing schemes for the next few years until they are old enough to be sold as family ponies – their places will then be taken by another group of younger ponies in the scheme. (Northumberland Wildlife Trust)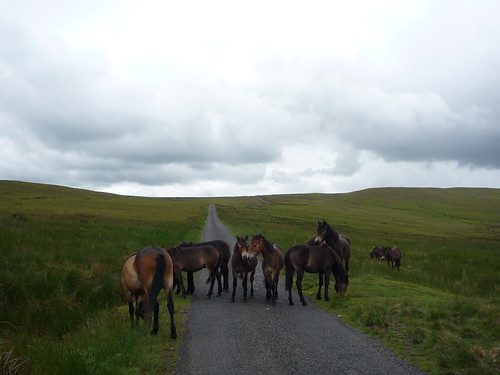 Like the wild cattle, if you stay long enough they tend to be curious and will come right up to you to inspect.  They're lovely, with coloration that looks like it got rubbed away in places.