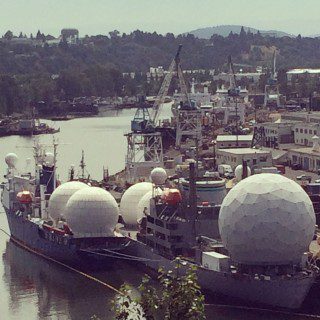 So… my PDX project's gone through some shifts in the last 3 weeks.
I lost my design partners, but gained them as consultants! and some great new allies have appeared.
I have a new name for the project, and a framework of a project that suggests a permanent floating studio, less of a sculpture-centric temporary artwork:
Floating Studio for Dark Ecologies (FSDE) is an art/science residency program and public artwork to be sited on a houseboat on the Willamette/Columbia Rivers (Portland, OR). FSDE integrates social practice, craft, and citizen science to address the confluence of social, biological and economic systems connecting climate change and river health.
FSDE residents will investigate the "dark ecology" of North Portland ("green" mecca and home to 11 long-term superfund sites) and examine the science, politics, poetics and pragmatics of the rivers.
At the center of the floating studio is a small chai house fusing curiosity, hospitality, and action. Guests will produce and drink tea mirroring the environment: geology (clay cups), water, plants (chai spices), and black tea (imported from across the Pacific). This intimate ritual connects local and global concerns of climate, citizenship and the ecosystem in order to imagine and shape the rivers' future.
+++
This means…
get a houseboat
modify, upgrade and customize
rent moorage
I met with the sublime and elegant Diane Hall, ED of the Bill Healey Foundation yesterday. She and her sister live on next-dock-neighbor houseboats. I got some tips on what to look for: old growth logs are best. You can really revamp a boat in a big way and even grow trees.
++++
Yesterday I also met with Peter McCoy, the founder of Radical Mycology: he is a force in the remediation world. Open source, DIY, generosity model, passionate, theoretical, speculative, and really knowledgable.
Peter and Oliver Kellhammer will be leading a design charrette with me in PDX at the end of July, on using bio-remediating materials in architecture, art and design.