There's an exhibit up at the Met of Luo Ping's works until January 10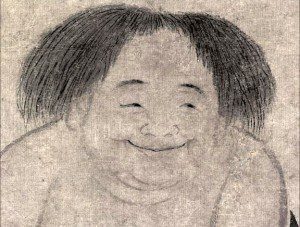 … a vivid description of him, his wife, his master + context:
WIT AND NON-CONFORMIST, bohemian and connoisseur, devout Buddhist and self-proclaimed expert on the supernatural, the 18th-century Chinese painter, Luo Ping was all this and more. Luo was a native of Yangzhou, where the Grand Canal meets the Yangzi and the centre of a thriving salt trade. Destroyed in 1645, merchant patronage and increasing affluence during the nascent century of Manchu rule (1644-1911) turned it into a southern cultural metropolis, complete with scholarly and artistic pursuits. Home to more than a hundred renowned painters – according to Li Dou's Yangzhou huafang lu (Record of the Flower Boats of Yangzhou, 1795), it was synonymous with the 'Eight Eccentrics of Yangzhou', a loosely knit group of bold individualists. They subjected the traditional tenets of Chinese painting to much experiment, dwelling on the figurative genres of flowers, plants, rocks and portraiture. Labelled guai, 'eccentric' for their unconventional ways, they paid homage to no particular school. Luo Ping was the youngest proponent of the 'Eight Eccentrics', and although a timely representative of his age, has remained somewhat eclipsed…

Plum Blossom

In 18th-century Yangzhou, the plum blossom, Prunus mume, was a living subject. The precursor to spring and sign of renewal, it evoked many associations and sentiments. Jin Nong introduced the classical plum blossom in all its complexities to his pupil. During a six-week stay with the Luo family, he painted the monochromatic Plum Blossoms (1757), inspiring their devotion to the tree, which eventually earned them the accolade, the 'Luo Family Plum School'. Another partner in Luo Ping's work was his wife, Fang Wanyi (1732-1779), whom he had married at nineteen, in a 'modern' union of like-minded souls. One 10-leaf album, Figures, Flowers and Plants is a unique collaboration by Jin, Luo and Fang; the master painted the first five leaves, the next two are by the couple and the last three feature Luo's finger painting techniques. In Leaf 3 (1760), Fang Wanyi's orchids, symbol of moral integrity and female refinement are paired with Luo's plum blossoms.