Just watched The Cove.
Besides its effectively genius simple mediation techniques (TVs strapped to protesting bodies in public spaces jihad-style; happy dolphin balloons armed with covert spycams), the fundamental argument is… unarguable. Dolphin slaughter should become an embarrassing harpoon in Japan's public image.
– as top-of-the-food-chain eaters (like us), dolphin meat contains toxic levels of mercury (as much as 2000ppm, when safe consumption levels are .4 ppm);
– the yearly slaughter in Japan is an apparent add-on to the lucrative business of supplying tourist complexes with dolphins for swim n pet pools. Dolphins should not be kept in most or all captive situations, it causes high  and depression to animals who need complex social and geographical ranges.
– most allegiances to Japan's position on dolphin and whale killing are bought.
You can take action by texting the word DOLPHIN to sms # 44144.
The movie's populist/activist site  is  here.
I followed the rather complex discussion on H-Net's H-Animal after the SeaWorld killing of  trainer Dawn Brancheau by the orca named Tilikum. What I'm going to note is a stretch, I  admit, but not unlike  eating meat (which I do), in which the animal in its natural state has long disappeared and what you are left with is something delectable, if not cleanly packaged, animals in zoos and aquaria are easy to perceive as a packaged commodity, far removed (even with info graphics as to their origin and natural ways of life). Neither eating meat nor consuming animals as entertainment – even when framed as sustaining or nourishing or educational –  is defensible.
As usual, a better summary lies elsewhere.
Excerpt from Andrew Revkin's dot.earth, one of the  NY Times' blogs:
I asked Carl Safina, the marine biologist, ocean campaigner and author, whether he thought utilitarian or ethical arguments dominated the film. Here's what he said:

The film is an astonishing achievement. On your question about our relationship with fellow species, this question can be debated along several lines: sustainability, human health, humaneness, and our relationship with other species.

Killing the dolphins in those numbers is clearly sustainable.

Their meat is high in mercury but eating a little won't hurt you, although eating it routinely could cause problems.

The dolphins are capable of panic and pain, both of which they suffer in this hunt. For millenniums, seafarers and shore-dwelling people have almost universally found dolphins to be beautiful and inspiring, and for that reason as well as their high intelligence, the human relationship with them has been special.

However, I'm uncomfortable forcing my values on other people. I like to catch and eat fish; some people understandably find that immoral. Eating dolphins is also unnecessary, but we all like to do a lot of unnecessary things, from playing baseball to going for a drive on a Sunday to eating hamburgers. And certainly Americans kill and eat tremendous numbers of cattle, which, like dolphins, are warm-blooded mammals that suckle their young.

But perhaps the most universal hallmark of human progress is the desire to minimize infliction of suffering. We have strict codes for how animals slaughtered for food must be killed, and much of it has to do with lessening their suffering.

The main problem with killing marine mammals — a much bigger problem than whether a small amount of killing is sustainable — is that it is cruel. Every real advance in human thought has had to do with expanding our circle of compassion. Cruelty to animals seems to parallel cruelty to people. So, I think the international condemnation of the dolphin killing is fair enough. There is no denying the fact that it is brutal business.

Personally, I detest the dolphin killing. One cultural aspect is worth noting: it is curious that the Japanese hunt seems to arouse more ire than the Faeroese pilot whale hunt, which is equally gruesome. Perhaps this is mere cultural bigotry. Perhaps it is because Japan's behavior regarding dolphins, whales and fishing is so outside global norms. And because their policies in international bodies such as fisheries commissions, the whaling commission, and the Convention on International Trade in Endangered Species are disruptive enough to have global consequences.

Another fascinating aspect of the film that I discussed was simply that Mr. Psihoyos had perfected a new way of telling true stories that is something other than journalism — and fills a gap as the resources and reach of traditional media shrink.

With small high-definition cameras and the power of the Web, anyone — from a community activist to a journalism student — can now document and disseminate imagery on issues that matter. Also, activists have recruited enough supporters (Bob Barker buying a ship for the Sea Shepherd Conservation Society, for instance) that they can patrol the vast southern ocean tracking Japan's whaling fleet when the media, and even other governments, are unable to do so. In the end, as I've been saying lately, it appears that traditional media are a shrinking wedge of the expanding pie of global electronic storytelling. "The Cove" is an example of someone creatively filling the void.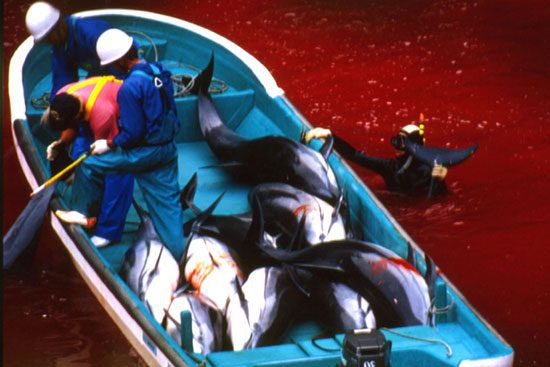 +++