(Corey Wolfe, Michael Pollan, Erica Fudge, read like cornball-edly obvious fictional names, but their books are great)
At ITP I'm teaching a class called "Animals, People and Those in Between."
This book, in addition to The Animals Reader, was super-useful, covering a lot of ground both on the history of people's attitudes towards animals (from Aristotle, Descartes and Bentham to Peter Singer, and Tom Regan,  Carol Adams, Yi-Fu Tuan et al), but also a survey on more radical and critical takes on the subject.
Animal is a clear and critical  guide to 'reading' animals, and asking questions of everyone trafficking in animals,  from the view points of science, fashion, advertising and philosophy. Fudge gives a great summary of Peter Singer's work in chapter 2, "Real and Symbolic: Questions of Difference" as well as magic acts revealed in her treatment of Ham the NASA chimp, the His Master's Voice dog, and PETA + fake fur.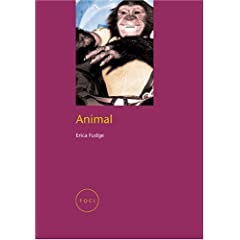 …You can get the book on Amazon
This book's part of the Focus on Contemporary Issues series by Reaktion Books, who has a great series called Animal.  The series' titles include Ant, Bear, Cockroach, Cat, Crow, Eel, Elephant... They're written by a spectrum of eminent nature-culture writers. I loved Fly, which covered the natural and cultural histories of, yeah, flies. Author Stephen Connor describes the fly as one who "takes its pleasure promiscuously, restlessly, unswervably, unashamedly…. Each fly is king of his own country. He knows no laws or conventions…He has no work to do—no tyrannical instinct to obey… what freedom is like his?"
This is my kind of reasoned, academic, delicious anthropomorphism.