SSSSHHHHHHssshhhhhsshh.
You're dead, now. Gone. Hush. Hush. You can finally enjoy what this planet was about: beautiful sounds. Birds. Waves. Wind. Thunder. Ripples. Splashing. All the sounds your WORDS, your endless words, drowned out. Can you hear it? Yes: Silence.
– Una Chaudhuri
The invitation:
Join us in a ritual festivity that invites you to become more dandelion. From trans-species oration to cow eulogies to intimate ocean tributes, this is the party of Making the Best of It, a communal service compressed into the space of a toast – to how all of us are making the best of it, now and in the future.
Northern Spark —the dusk to dawn public arts festival—presented its 2017 theme, Climate Chaos/People Rising.
Making the Best of It, a small collective (of which we are founding members) of post-humanists making work about climate change and interspecies relations staged a celebratory "memorial" to the human species. This memorial was hosted by dandelions. Any member of the public willing to wait in line and prepare something to say was invited to contribute a public spoken tribute from the point of view of a non-human identity we assigned to them while they waited on line. In an intimate setting inside our triangular "refuge" structure, each participant offered 8 witnesses a brief speech from the point of view of a non-human agent such as a squirrel, the lawn, the ocean, a cow, or a virus.
Cadieux, Libertus, and Zurkow emceed. Over 250 participants paid tribute to humans with speeches and a toast of dandelion kvass (a foraged variant of the salty fermented drink).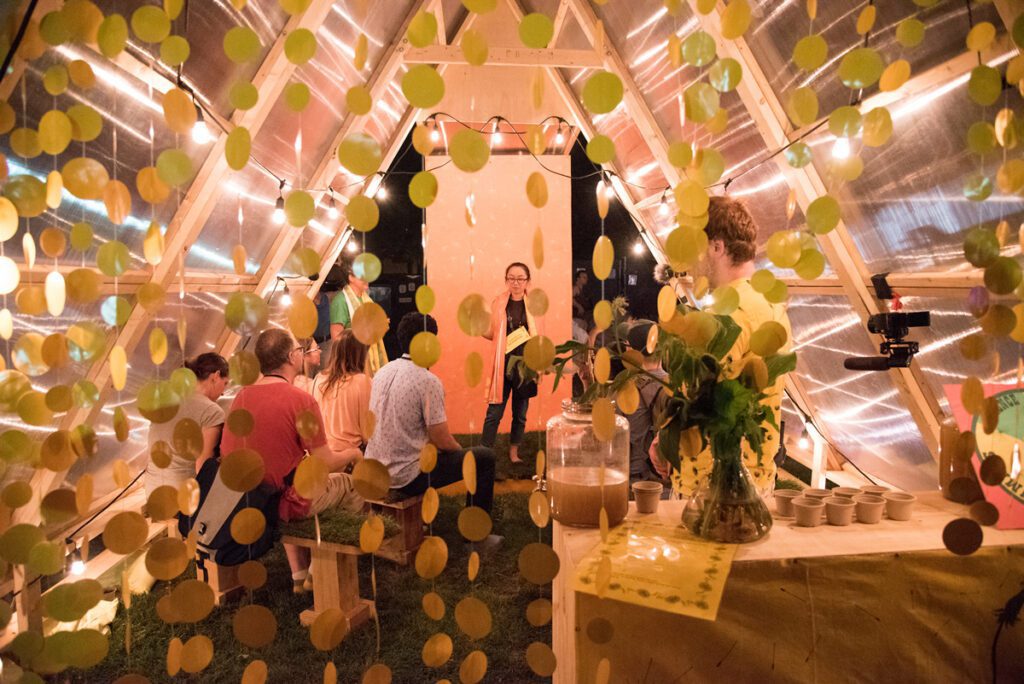 See below for a walk-through of the all-night performance: