My comments in (italics)
HOUSTON (AP) — The Coast Guard says a nearly one-mile stretch of the Houston Ship Channel will be closed for at least four days as workers use pitchforks and fishnets to corral, pierce and remove 15,000 gallons of beef fat.
Coast Guard spokesman Richard Brahm says shipping has not been impacted (but our scheduled boat tour was: they canceled ship channel port tours because of BEEF FAT). The refinery-lined (and beef fat biodiesel storage-lined) waterway is one of the busiest marine thoroughfares in the country.
On Tuesday, about 250,000 gallons of beef fat leaked from a storage tank, and some reached the waterway through a storm drain. The fat solidified when it hit the colder water.
Initially, the Coast Guard thought the channel would reopen early Thursday. But Brahm says the cleanup is taking longer than expected. By late Wednesday only 25 percent of the mess had been removed.
via Houston waterway shut for days after beef fat leak – Bloomberg.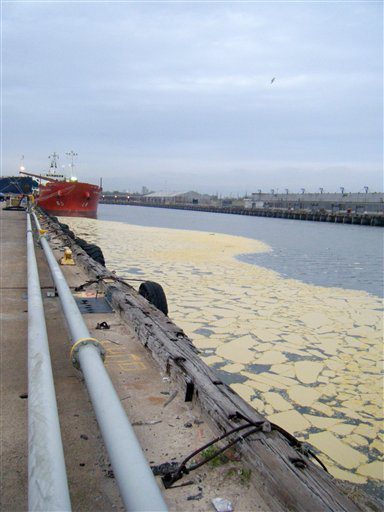 (Addenda:
– Representatives of the company say the rupture was the result of an employee error
– It's  better than an oil spill, is it not?
– This storage tank of tallow was not intended to be edible' it's the fat used for cosmetics and soap. – They chunks in the channel are being referred to as  "patties.")