I am in TX — in Houston for the week. It is balmy.
Jan 04 I flew from NY in an extra legroom three-seat row, next to two enormous men (one wide, one tall).  Aisle man pushed into middle man, leaving me a minuscule (standard) patch of space next to the window.  The aisle guy looked like a student; the middle guy was an oil exec for Schlumberger (I know bc I read all his email). All three of us were reading about geology: The student was reading Bill Bryson's "A Short History Of Nearly Everything" the oil exec, power point docs about noise reduction in fluids dropped down wells, and I, John McPhee's Basin and Range (the poetics of geology).
Jan 05 Texas City. This morning I got stopped by private security for photographing the refineries from the road. (Are you following me? I ask.  Yes! with a smile; I'd stay put, Ma'am, we have your plates. The police and FBI are coming.) 10 minutes later, the policeman took my drivers license, looked at my photos – the first dozen of which were pretty abstract – and then called his FBI contact from his iPhone. You have a smart phone? I ask. It's my personal phone. He's sweet, actually. I'm thinking, Why's he calling FBI from his personal cell phone? The policeman believed me,  I'm nothing more than an artist and so the FBI doesn't have to come make me delete everything… And he really was a very nice policeman. He suggested that instead of continuing my photography of the refineries, I should go look  at the dolphins down at the end of the dike: Our pod is back. I would like to do some testing of their pod's bioaccumulation (not to mention the people who live in the little sleepy town of Texas City and eat their catch from the 5 Mile Dike.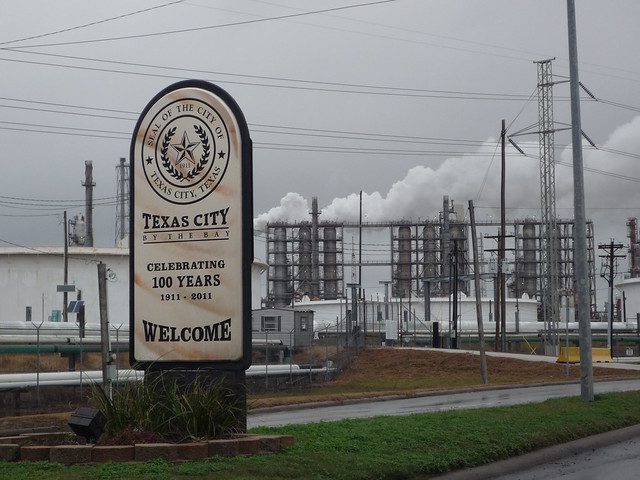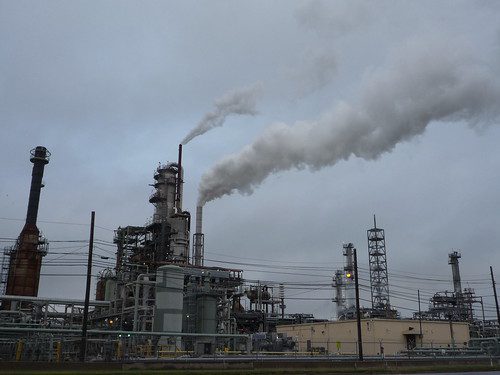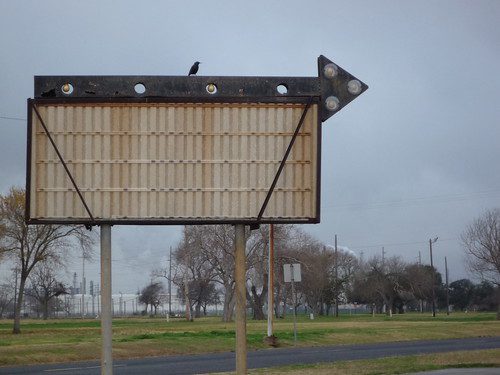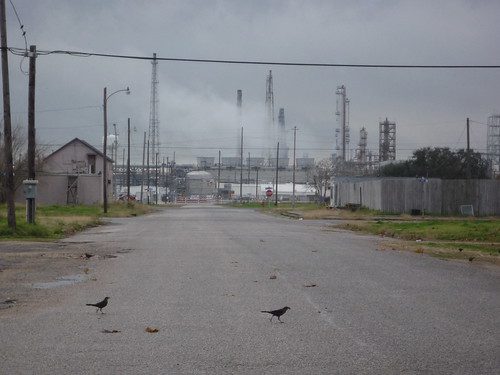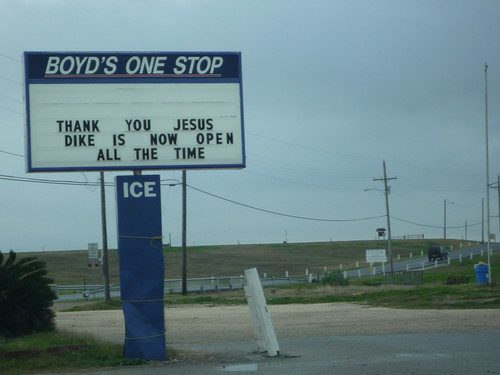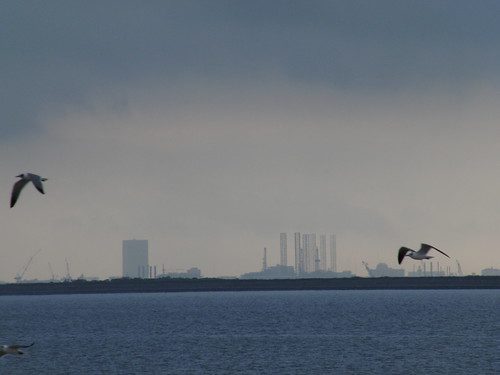 ***
Jan 05 Galveston, The Ocean Star Offshore Rig and Museum. Everything you always wanted to know about offshore drilling but were afraid to find out. Fantastic. A working rig, fully labeled; costumes to try on ("so you want a job in offshore?"; personality tests; brass plaques; miniatures; a dizzying derrick; 3D displays of seismic geological detection; an extensive "life on the offshore rig" display; and a corner of the 2nd floor devoted to environmental consciousness and care.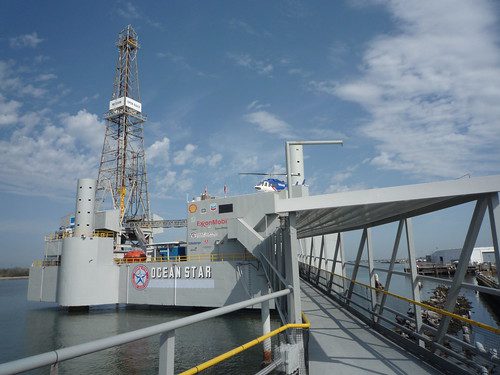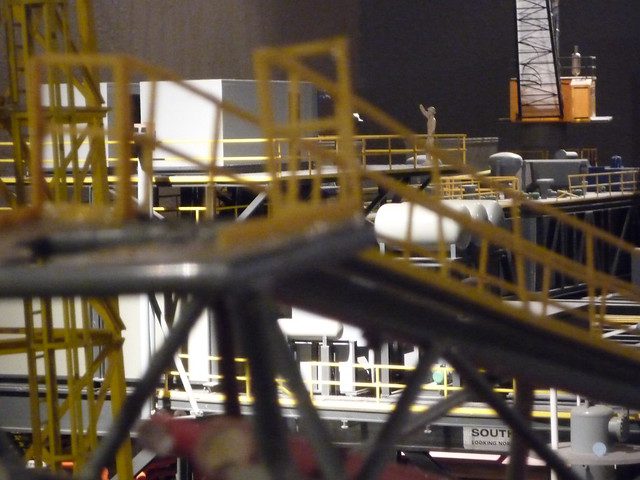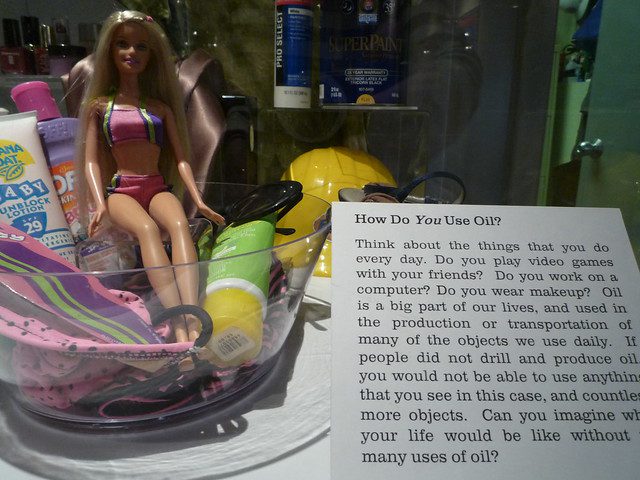 ***
Jan 05 Peak experience of the day: driving back from Galveston along the service road of I-45. Just before the causeway back to the mainland, one passes a series of wetlands, called the John M O'Quinn Estuarial Corridor.  pull over, as I see birds paddling about. Texas is the #1 birding state apparently. And they are everywhere, squeaking, cawing, peeping, singing, wading, flapping, drying out. But here… so poetic: just beyond the meandering estuary is a long line of freight cars, all oil tanks, and beyond that, the refineries of Texas City. And up in the sky is something pink, the color of sunset (really), I am thinking flamingo, it's so pink. It's a roseate spoonbill, it's exquisite, alone, and flapping its pinkness across the late afternoon.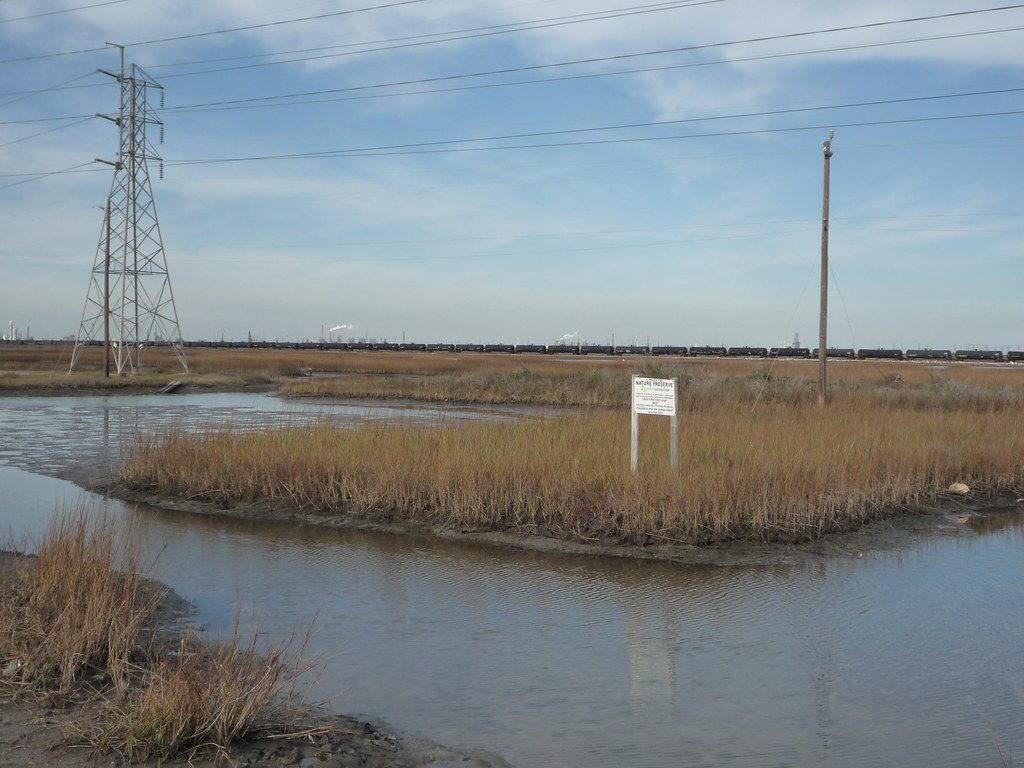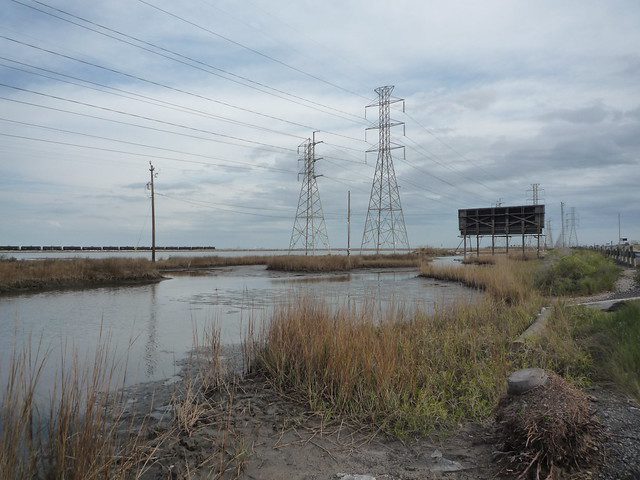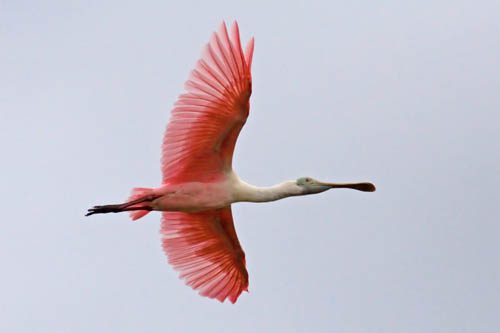 ***
Jan 06 Went to The Center for Land Use Interpretation's (CLUI) exhibition down on Buffalo Bayou. They have an exhibition and workspace trailer on the Buffalo Bayou Partnership land, next to a "symphonic" scrap yard. The aerial HD video that CLUI made for "Texas Oil: Landscape of an Industry" is stunning. And  in the last CLUI's newsletter, the essay "Going With The Flow, Flowing Through Texas' Liquid Petrochemicalscape" reads like adventure fiction.
On the exhibition site at the Blaffer, CLUI writes
A petrochemical system integrates the country through a continental network of facilities and pipelines. This network, assembled over the last hundred years, moves crude, gas, and chemical feedstock, from coast to coast, production areas to processing plants, tank farms to tanker ports, touching every state. It is a circulatory system of the American Land, moving the lifeblood of the economy, in this Petrochemical Age.

Though the complexity, scale, and forms of the industry resemble those of science fiction fantasy, they are real and present.

If the oil industry has a heart, then it is Texas. And Houston is its aorta.
— The Center for Land Use Interpretation
CLUI: http://www.clui.org/pro_pro/exhibits/txoil.html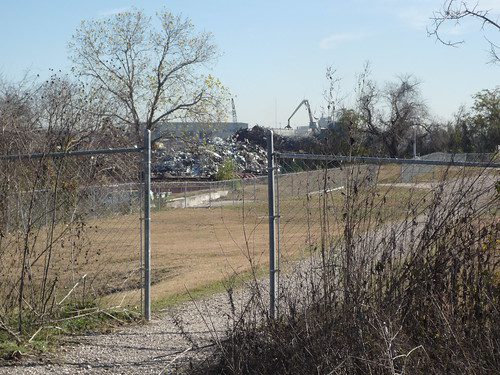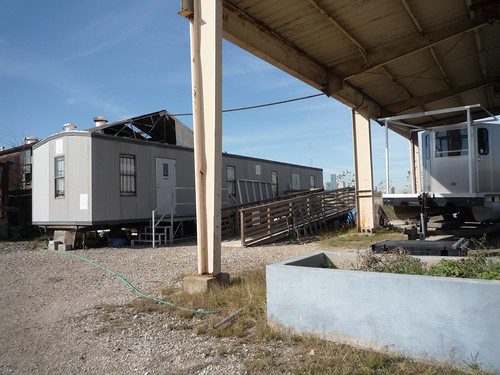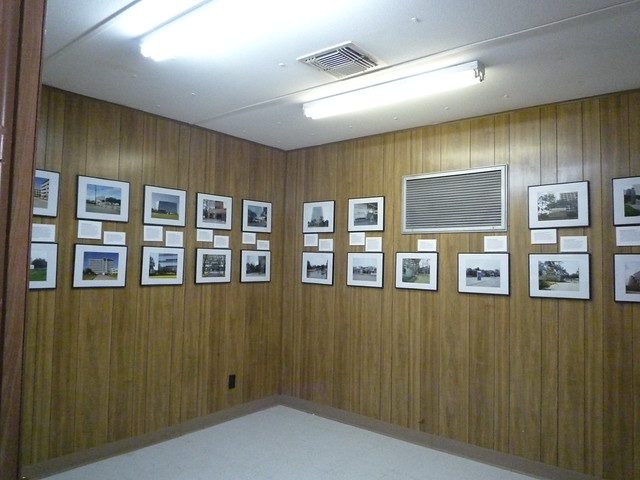 ******************************************************************
Also –
Great (toxic Texas?) oysters at Shrimp n Stuff for lunch. Highly recommend you get your lunch on there. Great fish tacos, too.
Lovely meeting Mary Magsamen of Aurora Picture Show that night…
Kurt Schwitters' Merzbau reconstructed at the Menil
Also at the Menil was the exhibition "Witnesses to a Surrealist Vision," which besides many great gems of the movement, presented a room of objects the surrealists had or would have had to inspire them. These included: "coconut seed resembling buttocks;" "Mickey Mouse Kachina;" and "Pestle in the Form of a Phallus."  133 objects in total, organized by anthropologist Edmund Carpenter.
Got to hang out with Diane Barber, curatrix extraordinaire, her partner Karen and her 2 dog-buds Bosco and Domino.
all flickr pics at http://www.flickr.com/photos/22155573@N00/