Jan 16. It often smells bad when I am driving around. You can't edit out the yellow grass, or the black mesquite (and its distribution now away from the draws, so that it dots most of the landscape), or the skies, or the oil pads, or the tanks, or the smells, or the invasive plants. I have edited out what I have not experienced: the radically different summer scape, replete with rattlesnakes and scorpions. And  golf-ball hail season. And howling 60 MPH winds. And  tornadoes. And wildflowers that bloom after rains (though there's been a 100 day drought, burn ban, and some worry). But back to the smell: If every 1/4 mile you see a sign posted on a private  gate stating Warning: Poison Gas, it can't be A-Okay. I have heard from several people that you stop smelling it. Children brought up here don't smell it at all. Small towns have big cancer causalities. Don't ask, don't tell. Most people here are fully embedded in the landscape, and if you want a job and any sense of community, you're not outspoken or asking too many questions.
I got to see the Wink Sink #2.
I discovered this black spot while looking around the area on Google Maps' satellite view; you can see the town of Wink at the bottom left, and a large and small black spot at the top right. The small hole opened in 2002 and is stabilized. The large hole is Wink Sink #2: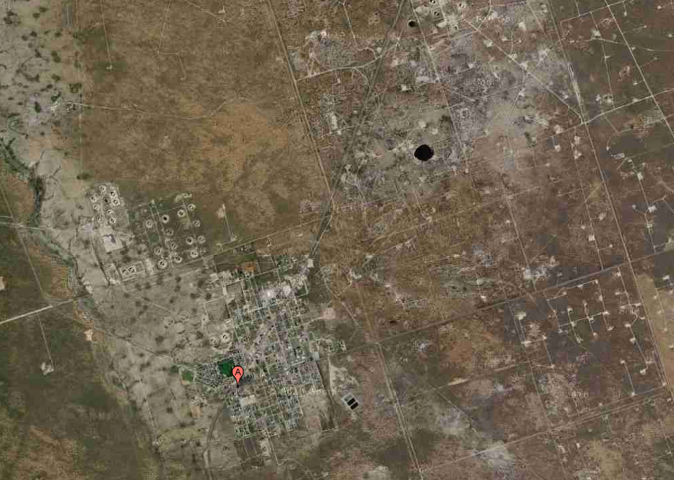 It started as a foot wide hole in 2006, and is still outgrowing its training fences.
It is disturbance geology in hyper fast forward. It has grandeur and looks delicious.
Electric lines and pipelines have been moved,  and a county road is closed.
The cracks and faults that are appearing in proximity to the sinkhole are spooky, radiating out onto larger roads and the neighboring land.


This landscape below was en route between Odessa and Kermit. I love the contrast of the yellow yellow grass of the  Llano to the hidden sink hole with its deep, blue, blue water.  I love the sfumato that  much of this soft landscape offers.
+++
I stopped by Monahans Sand Hills State Park one last time. It really is my favorite retreat here;  it's a pocket dune desert, it's empty this time of year, and it's got magical properties. The trees near the Park HQ were full of Pyrrhuloxia (why does this bird lack a vernacular name?), who are apparently bullies to other birds:
There were strange tracks in the sand. Ranger said probably owl:

And siskins in the yucca:

+++
OK, I have to go home and figure out what I am doing.
I left an extra day and a half, so I would know if I was done for now.
I'm done, and started to feel like I was driving aimlessly yesterday late afternoon.
I'll be back, I am sure of it. I just need to figure out the next stage of work.
Meanwhile, I finished up the trip at the Permian Basin Petroleum Museum. Glad I waited. The exhibits filled in some holes, but didn't frame my trek:
The Hall of Fame:

Core samples:

Caution! You are stepping back 230,000,000 YEARS:

A Permian Reef:

And captured some of the signs in Midland:
The penultimate mirage will be the cowboy:

And the 19th century Comanche raiding party gets the final word…